2015 Display
Lurgan Mail Pre-Switch On Article
Published: 19/11/15
Lurgan teenager Tim Hancock is something of a bright spark and his annual Christmas lights display is a shining example.
The 17-year-old started his Christmas lights display when he was 14 and has been building it up year on year – as well as raising a tidy sum for charity, which was a goal he wanted to achieve as the family had been lighting up their garden for a number of years previous.
Last year Tim raised a total of £1,013 with the display dedicated to the memory of family friend Andrew Wilson and raising money for Marie Curie Cancer Care.
This year's display will also be raising money for the cancer charity and Tim hopes to at least equal last year's total.
The 2015 display will be launched on November 28 with Santa Claus pushing the button at 7pm.
Tim has been planning the display since January and working over the past four weeks – and battling the weather – to create the display which will feature an approximately 15 foot mega tree.
A variety of plastic moulded features have taken up residence on a 'stage' in the front garden of Tim's family home at 45 Wood Lane.
Upwards of 50 features will be on display including a Santa's workshop scene, choir scene and a nativity scene.
Tim said: "I've been setting up since late October after ten months of planning, to make sure it will all be ready for the launch date."
He was also nominated for an award as a result of his appeal: "I'm going to London for the event organised by the #iwill campaign run by Step Up to Serve.
"After the success of last year's appeal I was nominated by one of the visitors to the display. I'm going to be meeting an unnamed VIP guest on November 24."
Tim added: "I was very pleased that I had been nominated, it has encouraged me to make the display even bigger and go a step further than last year."
Over the past three years Tim has grown into his passion: "It has taught me quite a lot of electrical and DIY skills. All the wiring takes the vast majority of five-six days to complete."
Indeed proof positive of Tim's commitment – and that of his family – is the fact the display now has its own dedicated power supply.
Tim said: "We got a new electrical supply put in this year dedicated to the lights – that's how you know you're running a big display."
The display will run until New Year's Eve from 4.30pm to 10pm each night.
Santa will also be visiting the display on December 22 so children can meet him and get in those last minute requests.
For updates see the facebook page www.facebook.com/timschristmaslights
To make an online donation visit his Just Giving page www.justgiving.com/timslights or leave a donation in the large donation box on site at the display.
Belfast Telegraph Article
Published: 24/12/15
Tim Hancock (17) is in his final year at Lurgan College. He says:
"Dad bought an illuminated figure for both me and my younger brother when we were born. The plan was that we would take them to our own homes when we grew up.
I loved going to the sales with my dad and would buy and buy until we ended up with the start of a collection as it is now.
Our first [charity] display was in 2013 and this year (2015) we have about 60 illuminated figures throughout the garden.
A family friend, Andrew Wilson, had usually put on a big display up in Maghaberry but he had to stop [his display] because he had been diagnosed with cancer. I got in touch with him and took over a lot of his collection – he asked me to take the lights because he wanted me to continue what he had started.
Up until then we had always put on a little family display but then we bought new figures so we decided to do it for charity to see how it went.
That year [2013] we raised about £300 for Charlene's Project, a charity that brings education and sustainable projects to developing countries.
Last year [2014] we decided to dedicate the display to Andrew who passed away [that] summer – after all, a lot of the lights in the display came from him. We collected for the charity which had looked after him in his last days, Marie Curie Cancer Care.
We're collecting for Marie Curie again this year [2015]. Unfortunately, a lot of people have a connection with cancer [but] it's getting a good response. So far, we've raised £1,200.
The lights start to go up around the second weekend of October and they get switched on, on the last Saturday night of November.
…we've had a dedicated power supply put in with its own timer.
We spend between £100-£150 on electricity but we do get a lot of help.
Local companies provide us with platforms, scaffolding and donations towards the running costs – it has become a real community effort.
I always went round displays when I was a kid and loved the idea of doing something like this but I never thought it would actually happen."
Lurgan Mail Charity Total Announcement Article
Published: 03/03/16
Tim Hancock, the organiser behind Tim's Lights raised over £1925 in aid of Marie Curie (Northern Ireland) through his charity Christmas Lights Display, ran by himself and his family.
Each Christmas season the 18 year old school pupil, is known for the charity display at their family home in Wood Lane Lurgan which comprises of a full nativity, 11 piece choir and caroller scene, various Santa's, snowmen, reindeers and even some elves and penguins.
Christmas is an all year occurrence in the family but Christmas really begins at the start of October when the many outdoor decorations start going up. The process of putting the lights up runs through October right up until the last Saturday in November when the lights are switched on. The 2015 display was unveiled before a watching audience of around 100 people from the local community on the 28th November 2015  and from then on, each car passing the house slowed down to snails pace with many stopping to drop a donation into the coin dropper charity box feature on the display.
Tim told the MAIL of his role as a #iwill ambassador commenting that his recognition in November 2015 from HRH, Prince of Wales had encouraged him to continue growing the display year on year and involving the community at the heart all while celebrating the real meaning of the Christmas season, the birth of Christ and raising vital funds for the charities they have supported and will support in the future.
Tim also thanked many local and national firms for their invaluable support throughout the display. Those firms include: ALoganSolutions, Asda, Castle Stage Hire, Chemical Treatment Services,  LoftSound, Mallon Scaffolding, Maloney's Diner, McKerr Home&Garden, Pneuma School of Motoring, PrintIt(Moira), Sainsbury, Tesco & Trade Tools Lurgan.
2014 Display
Tim Hancock presents a cheque to Margaret Coleman of Marie Curie Cancer Care
Photographed: 31/12/14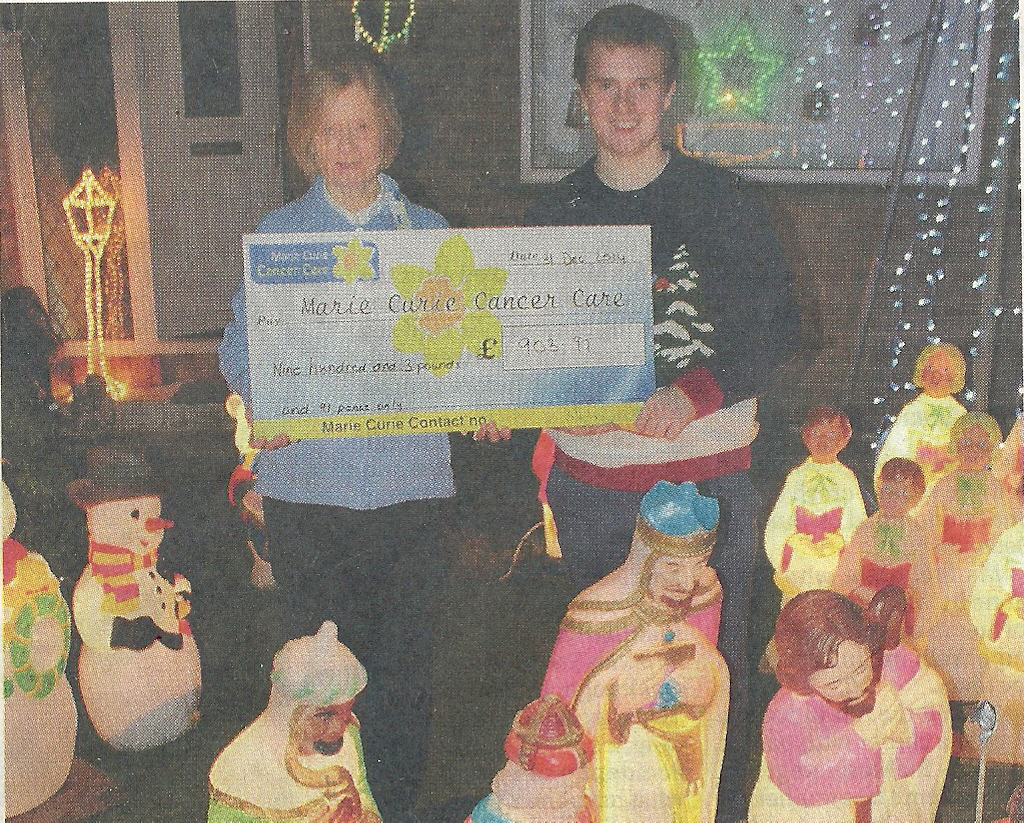 Lurgan Mail Fundraiser Lights Display Success
Published: 08/01/15
Tim's a bright spark for charity
As Tim Hancock packs up his annual Christmas lights display this week he can take great pride in the knowledge his efforts have £1013.41 for Marie Curie Cancer Care.
Tim's Lights Annual Charity Christmas Display lit up the Hancock family home in Wood Lane, Lurgan, from November 29 to reach out to the community and spread the real meaning of Christmas.
The garden was once again lit up for the festive season with even more lights than any other year to raise funds for the work of Marie Curie Cancer Care.
On display were 33 plastic moulded figures known as blow moulds which are each lit by a single bulb with most the figures lit by a single bulb at between 15watts and 28watts as an attempt to make the entire display more energy efficient and environmentally friendly.
Tim works with his three very committed friends and his parents to pull off the display each year which has turned into a year long 24-7 hobby for Tim who has worked for 13-months to bring the 2014 show together.
The collection of figures included elves, santas, teddy bears, snowmen, angels, polar bears and soldiers, a seven piece choir and a new addition in the shape of a full 10 piece nativity set, complete with straw.
The collection has been built up over the last 12 to 14 years after Mark, Tim's father, bought the family's first santa and snowmen figures in a local Christmas shop.
Marie Curie Cancer Care is a charity which has come very close to the family's heart in recent months after losing a family friend to Cancer, who was known for running a very big and popular Christmas Lights Display in Maghaberry.
When Tim learned of the passing of their friend, he knew straight away that the charity for 2014 would be Marie Curie and that the display would be run in their friends memory as he had donated a number of items from his collection to Tim.
Tim thanked the following for their support: Carolyn Adams Displays Ltd, Mallon Scaffolding Ltd. Maloney's Takeaway and Diner, Moutray's Costcutter Lurgan, Newell's Newsagents Lurgan, Cafe Rhema, Sainsbury's Craigavon, Tesco Lurgan, Trade Tools Ltd.
Tim said: "The team would also want to thank all the people who stopped by and dropped a donation in the box or donated online and our superb neighbours for their on-going support in our endeavour."
For more see the Facebook page – "Tim's Lights" and website – www.timslights.co.uk
Radio Interview with Marie Curie Fundraising Officer for Craigavon Area – Phil Kane
Letter of Congratulations from David Simpson MP (Upper Bann)
Received: 09/01/15
Charity Total updated since letter was received
2013 Display
Certificate of Thanks from Charlene's Project